Orthotic Testimonials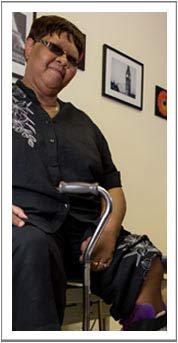 Name:
Chrisant Richard
Age:
51
My story:
I had a stroke that caused my left side to lose mobility. My hand, my foot, and my left leg all suffered. The biggest issue was my foot was coming up out of my shoe when I stepped, because the stroke had made my foot arched. I was walking on my toes. My left hand was also curling up on itself whenever I was resting, and I'd wake up with a clenched fist. I saw a woman in therapy, and she had her fist clenched so tight she couldn't unfold it. I didn't want that.
How POWELL helped:
My physician, Dr. McGowan of VCU, was a part of the process, and he recommended I come to POWELL. I'm so glad I did. They helped fit me for an articulating ankle foot orthosis, and they had a new process for making the brace so they could add color. They asked me for my favorite color, and my device is purple with yellow lightning bolts. It took about two weeks to get it, and it's helping me so much. I'm able to stand better and longer with my foot flat to the floor. Walking, and going up and down steps, is much easier with the brace, and I'm able to move faster, too.
I also have a hand brace from POWELL, to help train my fingers to stay open. It helps when I'm resting, watching TV or sleeping, because it wants to close. It's a resting hand orthosis and it makes my hand feel much better. I would come back and work with POWELL, but hopefully I don't have to. They are helping me to get better, and improve as part of my rehab work.
Why I love POWELL:
The flexibility for appointment times, and the kind personalities of the employees. Holli was the one I worked with, and she was a lot of fun as she took my measurements, and through the fittings. It was easy, and they are always available for adjustments at a later date.
POWELL in a word or two:
Support. Definitely.
Orthotics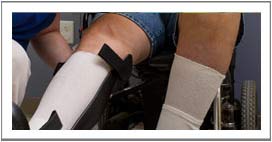 Name:
Newton Beck
Age:
74
My story:
I've been dealing with issues related to diabetes. I had a blister on my heel that became infected and I lost half my heel. It's growing back, but until it does, the CROW walker boot alleviates the pressure on the heel so I can take small steps.
How POWELL helped:
I came to POWELL when my son was four years old and was fitted with orthoses. When I needed orthotic help, I knew where to go. I've been here for diabetic shoes and other items, and working with POWELL is getting me back on my feet.
Why I love POWELL:
This time we've been working with Holli, but we've worked with other practitioners here, too. She was really nice and when I come in with an issue or a complaint she gets it straight. I've come back in a couple times when the device needed some adjustments, and right away she'd work on it and make it better.
POWELL in a word or two:
Convenient. They are right here, not two hours down the road.